A portfolio is a collection of work that showcases your skills, accomplishments, and experiences. Whether you're a student, artist, or professional, a portfolio can be an important tool for demonstrating your abilities and achievements.
One important aspect of creating a portfolio is acknowledging the people and organizations that have contributed to your work.
In this blog post, we'll explore five examples of acknowledgement for a portfolio, including tips on how to write an effective acknowledgement and show appreciation for those who have helped you along the way.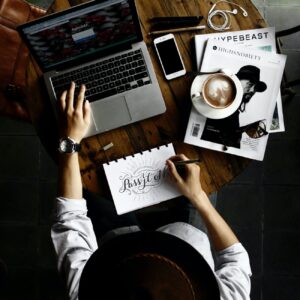 Saying thank you with style
How to Write an Acknowledgement: The Complete Guide for Students
Portfolio Acknowledgement Sample 1
ACKNOWLEDGEMENT
I am thankful to our almighty God who gives me strength every day and guides me to choose the right decision and he gives me wisdom, hope, and effort to make this portfolio, To make a success in immersion.
I acknowledge the following person who helps the student in senior high school. Thank you for your attention, in courage to other students to make this immersion. I am thankful to my family for supporting me and giving me the courage to not give up. I would like to thank my school for the financial support to use our immersion day.
I am thankful to Mr. spark for his supervision and for guiding me in our immersion sit. He helps me to do great work and to learn a lot and in a short time, I experience the real work base on the knowledge I accepted from school.
Portfolio Acknowledgement Sample 2
Acknowledgement
Putting together this portfolio has been difficult. It didn't seem conceivable at first to organize all of the knowledge and put it into a presenting form that would accurately convey my personality and everything I'd learned. I'd design the site, stare at it for a bit, and then redesign it, never like the end product.
Without the help of many people, this study endeavor would not have been possible. I gratefully convey my appreciation to my friends who were really helpful and provided vital aid, support, and guidance.
My heartfelt thanks also go to our Professor, Mr. Gilbert Nicanor Atillo, without his expertise and cooperation this work would have been in vain.
Thanks a Lot.
Portfolio Acknowledgement Example 3
This acknowledgement was Written by Glaizamae Retes for her portfolio here.
Acknowledgement
This project would not have been possible without the guidance and the help of several individuals who in one way or another contributed and extended their valuable assistance in the preparation and completion of this portfolio.
First and foremost, my utmost appreciation to Mr. Guilbert Nicanor Atilio, Professor of the Negros Oriental State University, Computer Science and Information Technology Department who gave me the golden opportunity to do this wonderful project and for his professional guidance and valuable support, which it is very useful in the days to come.
To selected classmates and friends for their help in building ideas and that despite of the distance, they have thoroughly e-mailed the information I needed.
I would like to express also my special thanks of gratitude to my family who supported me morally and financially.
Last but not the least, the one above all of us, the omnipresent, omniscient, and omnipotent God, for answering my prayers and for giving me the strength and wisdom, thank you so much Dear God.
"Thanks again to all who helped me. God bless us!"
Acknowledgement in Portfolio 4
This acknowledgment was taken from here.
Acknowledgement
 It is a pleasure to thank those who made this possible and who supported us in any respect during the completion of this portfolio:
 To our teacher, Maam Bianca Caangay who guided us in making this portfolio and for teaching us the best way she can. To our fellow groupmates namely, Anna Rose Francesca Darato, Charlie May De Paz, Christian CG Galang, Cheeny Marrie Galleto, and Yee Hwa Heo for having a great job in doing this project. And to our fellow students who also gave their best to have a wonderful and creative project.
 Most of all to our CREATOR, who provides us with everything that we need. Behind all of these, we would like to thank also our friends that inspire us a lot to do our best.
Portfolio Acknowledgement Example 5
This acknowledgement for her portfolio was written by Julie. You can check it out here.
Acknowledgement
Putting together this portfolio has been a challenge. Organizing all of the information and putting it into a presentation form that would appropriately express my personality and all that I've learned didn't seem possible at first. I would design the site, look at it for a while, and then redesign it; never quite liking the result. 
    This research project would not have been possible without the support of many people. I gladly express my gratitude to my friends who were abundantly helpful and offered invaluable assistance, support, and guidance. 
    My deepest gratitude is also due to our Professor Mr. Gilbert Nicanor Atillo without him, our knowledge and assistance in this study would not have been successful. 
    I want to express my love and gratitude to my beloved families for their understanding & endless love, through the duration of my studies I do appreciate it, and a big thanks to our Almighty God who enlighten my mind throughout this journey.